ClearContext v6.1 Now Available!
Upgrading?
Please take note!
When upgrading from v5.1 or earlier, AutoFile is enabled by default:
Unimportant email from bulk senders will be automatically filed to categorized folders

Sharing of AutoFile rules is enabled; any custom rules you create will be communicated to our servers.

After upgrading, select ClearContext > Options > AutoFile > Apply to Inbox to process the bulk email currently in your Inbox.
If you do not want to use these features, disable via ClearContext > Options > AutoFile.
New for v5.4:
v5.4 adds a category dashboard to view tasks and appointments by context category to better support GTD users and others who manage their tasks using categories . To enable:
Use the category tab of the organizer to assign context categories to tasks. Context categories are denoted by a special character in front of the category name (i.e. @Calls, !Next, *Phone ).
Select a category view on the ClearContext Summary Dashboard. Like the Project Summary, ClearContext will display a count of tasks and appointments by context category in the dashboard, highlighting due and overdue categories.
Double-click a context category on the Dashboard to open it in the Detail tab (formerly the Project tab). This will show all tasks and appointments with the assigned category. Add new tasks to the category using the Add Task function on the detail dashboard and ClearContext will automatically append the current context category to the task.
View all tasks marked as Next Actions by double-clicking the !Next category in the Dashboard.
Use the view on the Detail tab to filter tasks by date, priority or next actions.
Fixes an issue with recurring appointments that may introduce instability
For our customers who practice GTD, see our updated GTD guide for additional detail on integrating these new features into your workflow.
New for v5.3:
v5.3 adds functionality that many of our v5.2 customers have been asking for, including Next Action support for those who use the GTD system and AutoFile support for renaming and creating domain rules. Detailed features:
Right click tasks in the Dashboard or Organizer to mark them as Next Actions. A small arrow will appear next to those items you have identified as Next and a category of !Next will be assigned to the task.
Projects with Next Actions assigned will show a small arrow next to them in the Summary Dashboard.
Use the Next Action filter on your task list in the Dashboard to see only those tasks marked !Next.
Quickly add a task via the new Add Task feature at the bottom of the Organizer.
Rename AutoFile filing groups via ClearContext > Options > AutoFile.
When creating an AutoFile rule, you are now given the option to select a sender or domain based rule.
Disabled filing groups with no unread messages are hidden from the AutoFile group list in the Dashboard.
Miscellaneous other performance enhancements.
New for v5.2:
The primary focus of ClearContext 5.2 is a completely new module to automatically filter and manage all the "bacn" automated emails you receive. A number of minor enhancements have been made to increase the flexibility of the ClearContext Dashboard and Task Organizer functionality. We also now support Outlook 2010 64-bit and have made a number of bug fixes. Here's an overview of the new features:
AutoFile
Automated emails (notifications, newsletters, coupons, etc) are automatically categorized and filed.

To file messages from a sender, drag a message into the appropriate category in the AutoFile sidebar or select "Autofile From Sender" from the ClearContext menu
Click a group in AutoFile sidebar to view unread filed messages (double-click to go to the Outlook folder)
Click the check mark to mark all messages in a group read
To create a new filing group, create a new Outlook folder in ClearContext Autofiled or select Options > New Filing Group
To turn filing groups on/off and manage filed email addresses, select Options > Rules and Settings in the AutoFile sidebar tab
A daily summary of AutoFiled messages and email stats is posted in your Inbox (turn this off via ClearContext >Options > AutoFile)
Organizer & Dashboard Improvements
Tasks can now be organized by either Start Date or Due Date (via Options in the Organizer or Task Organization menu item in Dashboard)
Start Date can now be changed via Right Click menu
Tasks with a Start Date of today are underlined
Sidebar task entry default can now be set to "No Date" for undated task entry
In the Organizer Review tab, you can now view Sub-Projects when filtering by Project
In the Organizer Review filter options, you can show or hide Appointments alongside tasks
Other Improvements
AutoAssign - more flexible Folder Selector Dialog replaces the old drop-down control.
Mark Important – a single button to teach ClearContext which messages to mark as VIP.
Outlook 2010 x64 Support - ClearContext v5.2 supports the 64-bit version of Office 2010. Due to an Outlook bug, the integrated MessageContext window is not available when running Office 2010 x64.
Outlook 2003 Dashboard Resizing - we fixed an Outlook 2003 issue that causes the sidebar to disappear.
Mixed Exchange/Pop Use - the Dashboard now supports the use of Exchange as a secondary account.
Exchange Startup - improved startup time for Exchange customers with spotty connections to the server.
New for v5.1:
ClearContext 5.1 is primarily focused on improving the task and project management capabilities of ClearContext. The ClearContext Dashboard window has been replaced with a sidebar that brings many task and project features to the forefront in the product. For more extensive task management needs in a re-sizable window, the new Task Organizer helps with reviewing and editing tasks in bulk. We've also made a number of improvements to the email management and infrastructure of the product. Here's an overview of the new features: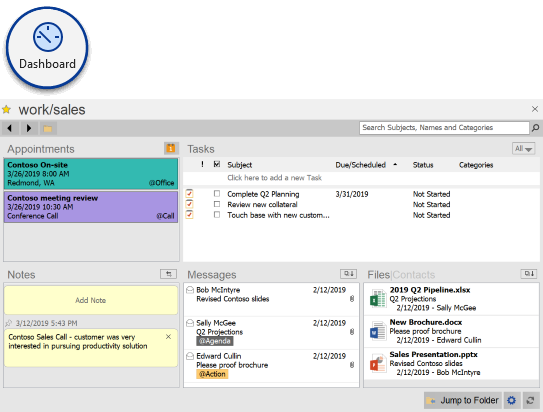 Sidebar
The ClearContext sidebar consists of a status dashboard and a project tab with detailed project information.

Dashboard tab
View status of projects due now, active projects, or find any project
Pin your most important projects for quick access to them
View and create/edit tasks, filtered by date/category/priority/etc
Email stats snapshot and link to detailed online stats
Project tab
Easily move/rename projects
Jump to associated email folder
Add free-form notes (for call logs, reminders, etc) to projects
Switch projects easily (quick access to pinned projects or select any project)
View and create/edit project tasks
View files and contacts associated with project
Task Organizer
Launch from menu/toolbar or sidebar Manage Tasks buttons
Change due dates on tasks in bulk
Manage and view tasks by project, category, priority, etc
Review completed or pending tasks for previous or upcoming 4 weeks
When the ClearContext sidebar is closed, a Task Reminder window will pop up when you have several overdue tasks.
Email Management
File project (quickly file all messages in threads assigned to a project)
Delete original message on reply (set in preferences to delete by default)
Option to ignore CC'd messages when marking priority (set in preferences)
Single folder filing (select "File all messages to root folder" in preferences to have File buttons send all messages to a single processed mail folder)
Infrastructure and performance improvements
IMAP (preliminary support for IMAP. Many limitations listed here. Not a recommended configuration.
Threading (fixing a number of threading issues in 5.0 related to messages in a thread coming from various different systems/platforms outside Exchange)
Category assignment (fixed issues related to assigning categories to messages)
2010 (better integration w/ Outlook 2010)
Suggestions (project suggestion should be more accurate for most users)
New for v5.0:
One-click Filing

Prioritization by Category

Email from important senders categorized as CC VIP
Email from known senders categorized as CC OK
Customize options at ClearContext > Options

More Supported Configurations

Multi-machine support
Filing to multiple mail files
Outlook 2010 x86 Beta (Office 2010 x64 not yet supported - info here )

Features not included in v5.0

A few v4 features have been removed in v5.0 and will return in a future v5.x release:

FolderContext
Alerts
Notification Managers (existing Notification Managers will continue to function)


All this and more on our improved high-performance, high-reliability infrastructure!
See this blog post for a v4 to v5 upgrade guide.
System Requirements:
Outlook 2003, 2007, 2010 x86 and x64

Windows 7, Vista & XP
POP or Exchange Mail (Recommended Cached Exchange Mode)

TWC/MYN-Powered Customers

If you are running the TWC version of ClearContext, see additional update details here.