ClearContext v7.1 Now Available!
Version 7 Brings Greater Productivity and Ease of Use
Support for Outlook 2016 and Windows 10
New versions of the Dashboard, Organizer, Defer, Followup, Project/Filing selector and AutoFile helps you get your work done faster and easier.
New QuickTasks feature to quickly add tasks in Outlook or while using other applications, plus recent task management capability
AutoFile improvements with additional filing conditions and support for filing to Project folders
Improved folder filing suggestions with advanced prediction algorithms
Enhanced Organizer capabilities including in place editing, revised views and navigation
Dashboard enhancements including quick toggle between Projects and Contexts, task search and Project Note print and export. Grouping by Contexts in detail tab.
Redesigned toolbar for Outlook 2010-2016 with compact layout and more customization capabilities
Expanded core capabilities for multiple mail accounts, configurations and more robust message handling and labeling.
Project folder management including moving messages, excluding folders and remembering visibility
MessageContext support for 64 bit versions of Outlook

Outlook 2010-2016 x64 only: ClearContext Pro x64



System Requirements:


Outlook 2007-2016 x86 and x64
Windows 10, 8.1, 7

Upgrade Note on AutoFile
The AutoFile feature is enabled by default. AutoFile will automatically file your unimportant email from bulk senders to categorized AutoFile folders. For more information see the
User Guide
. If you do not want to use this feature, disable it from
ClearContext >Options > AutoFile
.
ClearContext v7 also includes:
New for v5.4:
v5.4 adds a category dashboard to view tasks and appointments by context category to better support GTD users and others who manage their tasks using categories.
For our customers who practice GTD, see our updated GTD guide for additional detail on integrating these new features into your workflow.
New for v5.3:
v5.3 adds functionality that many of our v5.2 customers have been asking for, including Next Action support for those who use the GTD system.
New for v5.2:
AutoFile
automated emails (notifications, newsletters, coupons, etc) are automatically categorized and filed.

New for v5.1: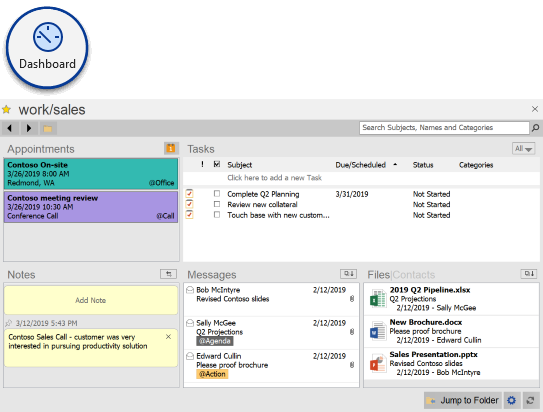 Dashboard Sidebar
The ClearContext sidebar consists of a status dashboard and a project tab with detailed project information.


Task Organizer
The Task Organizer allows one to review and manage large numbers of tasks by different view such as date, project and category.
New for v5.0:
One-click Filing

Suggested folders indicated by a question mark
Click the down arrow to choose another folder
File to any open mail file


Prioritization by Category

Email from important senders categorized as CC VIP
Email from known senders categorized as CC OK
Customize options at ClearContext > Options

More Supported Configurations

Multi-machine support
Filing to multiple mail files

Features not included in v5.0

A few v4 features have been removed in v5.0:

FolderContext
Alerts
Notification Managers


All this and more on our improved high-performance, high-reliability infrastructure!
See this blog post for a v4 to v5 upgrade guide.
MYN/TWC Powered Customers

If you are running the MYN/TWC version of ClearContext, see additional update details here.