Privacy and Data Collection Policy
At ClearContext your privacy is important to us.  We realize that your email is confidential, will only handle information relevant to the use and support of the product, and will allow you to opt-out of the collection of information. The body contents of emails are never stored or transmitted.
Information Collected
Usage Data
ClearContext may collect usage data and other information from users, including data about usage of ClearContext and its various features, and email volume data for use in email activity statistics. Users may opt out of statistics data collection via ClearContext > Options > Preferences > Misc from within Outlook. The usage data is not personally identifyable unless one registers for a ClearContext online account with their personal information and associates their statistics data with the account.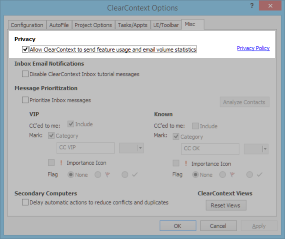 AutoFile
AutoFile allows users to create rules to automatically file messages from bulk senders. Users who opt into sharing and receiving AutoFile rules agree to communicate email senders for the rules they manually create. Users may opt out of AutoFile email sender data collection via ClearContext > Options > AutoFile.

Product Version and Licensing
ClearContext may collect product version information to alert users when new versions are available, and product license usage information to prevent product license abuse.
Sharing Features
In the future, ClearContext may offer features and/or services that allow the sharing of information with other ClearContext users that may involve disclosure of personal information. ClearContext will post on this privacy page a list of any features and/or services requiring disclosure of personal information for usage, and will seek consent prior to sharing any personally identifiable information.
Sharing of Information
ClearContext does not share, rent, or sell personal information to third-parties for advertising or marketing purposes. ClearContext will only share personally identifiable information with third parties for the following reasons:
With your permission, as part of the Sharing Features described above
When required to respond to subpoenas, court orders, or legal process, to prevent fraud or imminent harm, or to establish or exercise our legal rights or defend against legal claims
In the event that ClearContext is acquired by or merged with another company, the information will be subject to the policies of the successor company.
ClearContext may amend this privacy and data collection policy from time to time. If ClearContext does so, the revised privacy policy will be posted here.