The ClearContext Organizer provides a number of different ways to view and easily organize your tasks in Outlook. Views for managing by Date, Project, Category and Recent are provided. In addition, views for upcoming and completed tasks and appointments by week are available in the Weekly Planner and Review Completed.
1.
Use the
Organizer

button to launch

The Organizer button is shown in the toolbar/ribbon and the Dashboard.

2.
The tabs in the Organizer show different views
Dates

- Tasks grouped by due, upcoming and unscheduled

Project

- Tasks grouped by Project

Category

- Tasks grouped by context category

Recent

- Recently created tasks

Weekly Planner

- Upcoming Tasks and Appointments by week

Review Completed

- Past Tasks and Appointments by week
3.
Work with tasks directly from the
Organizer
Select one or more tasks, and either press one of the action buttons on the bottom or right click for other options, to change the desired attribute for the selected items. New tasks can also be entered on the top empty line.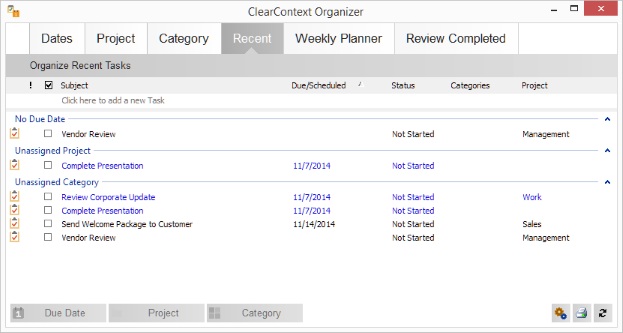 More Tips
*
The
Recent

view shows newly created tasks

After quickly jotting tasks with QuickTasks, use the Organizer to set dates and refine newly created to-dos.

*
Groups can be collapsed and expanded within each view
This lets you more efficiently hone in on the work you are focused on. Click on the arrow icon to right of a group to toggle showing the group items, or click on the +/- icon on the bottom right to toggle all groups. Printing also shows or hides items according to the group visibility.
*
The
Organizer

can manage task by Start Date or Due Date.

Click the gear icon on the bottom right to change. The start date can be an effective way to separate when work should be done from when it is due.