One click filing.
Save time and effort.
ClearContext helps to keep the Inbox clear in two ways. First AutoFile moves non-urgent bulk email out of the way of more important email messages that are sent directly to you. Then for any emails that you want to keep or archive, one click filing minimizes the efforts to get the messages moved to the right location.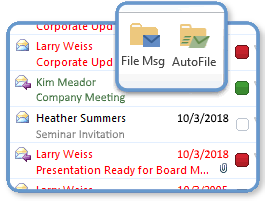 AutoFile
The Inbox contains a mix of important emails that require timely review and response, as well as bulk notification emails that are far lower in priority. AutoFile helps to focus on the important emails by automatically putting aside bulk emails for efficient review once a day.
Out of the box, ClearContext handles many popular bulk emails such as Facebook or LinkedIn notifications. Custom rules can easily be added for additional bulk senders, as well as the ability to file any type of email to other locations such as your Project folders.
To make sure AutoFiled emails are not overlooked, these filed messages are shown both in the Dashboard as well as in a Daily Digest to the Inbox. The Dashboard provides a real time status of unread AutoFiled emails, while the Daily Digest provides a report format suitable for review.
One click filing
ClearContext makes it easy to clear your inbox quickly by automatically suggesting the right folder to file emails with one click. ClearContext remembers where previous message conversations have been filed already and continuously learns from your filing history to anticipate filing intentions. This means the suggestion is usually the right one and allows for one click filing.
For cases where a filing folder has to be selected manually, additional relevant suggestions are shown as well as an efficient search interface with type ahead prediction for easy selection. In cases where you want to file all messages in a conversation, or even a Project, they can be filed in one step as well.
Emails to actions.
Stay on top of your interactions.
The Inbox is like an to-do list with email conversations representing things to get done, schedule or get back to. ClearContext structures and automates these email actions to track and prevent things from getting forgotten. Emails can be turned into Tasks or Appointments, messages can be snoozed to deal with later and followed up on if needed, as responses are automatically tracked.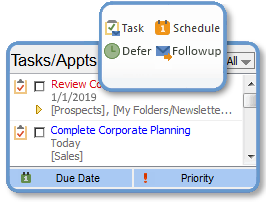 Emails to Tasks and Appointments
ClearContext turns emails into Tasks and Appointments in one step. Both a summary of the body text as well a complete copy of the original email is included to provide the context of the new Task or Appointment. In addition, the MessageContext preserves relationships back to the original emails to easily refer back to related items.
Defer Emails for Later
Need an email to pop back into the Inbox to remind yourself, or want to respond at a certain time? Defer can snooze messages out of sight and bring them back when you want to see them.
Followup Responses Automatically
Get reminded if you haven't received a response to an email you are expecting to hear back on. The Followup feature frees you from having to remember that a reply is needed, and reminds you if needed. When replies are received and no action is needed, the reminders are automatically cancelled.
Project organization.
Keep work together.
Know what's next and coming up, and find what you need. Project based organization gives you a view of the status, to-dos and related items that belong together - including contacts and attached files.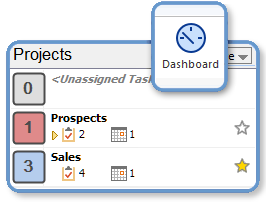 Dashboard
The Dashboard is your Project control center giving you the ability to know the status or what's next in a glance. A summary view shows a total count what's due and the status of all your Projects. The detail view shows to-dos and related emails and items all together by Project or category.
Organizer
The Organizer provides a number of different ways to view and easily organize your tasks in Outlook. Views for managing by Date, Project, Category and Recent are provided. In addition, forwards and backwards looking weekly views help with planning or status reporting.