User Guide: Organize Inbox, Manage Projects and Improve Email Effectiveness in Outlook
Following installation you will note that ClearContext has added toolbars and a sidebar within Outlook. These features allow you to quickly & effectively manage your email, tasks and Projects.
For an introduction to ClearContext, we first recommend stepping through our getting started page.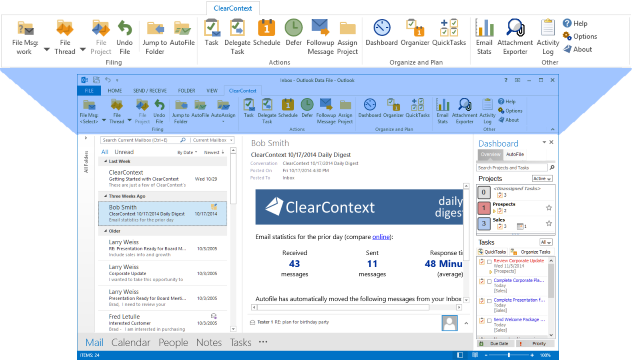 The ClearContext Inbox
Immediately following setup, ClearContext has automatically filed your bulk email and analyzed your email history to provide relevant filing suggestions. Key features include:
Select the topics to the left for details of each ClearContext feature. If you are implementing GTD in Outlook, see our GTD with ClearContext page for additional reference.