Filing
Message Actions
Plan/Organize
More
Deprecated
Defer: Hide Inbox Messages Until You Are Ready to Deal with Them
Much like you can snooze tasks and appointments in Outlook, Defer allows you to snooze a message for a given duration. When you click Defer, ClearContext moves the message into a special, dated deferred folder and automatically pulls it back into the Inbox, unread, at the time of your choosing.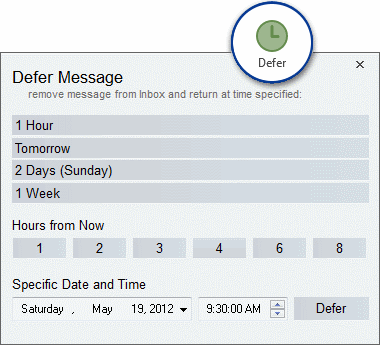 Highlight a message you want to postpone and click the Defer button. You can choose to defer for a period of time from now or choose a specific date and time. ClearContext will move the message into a dated ClearContext Deferred folder (a sub-folder of the Inbox). At the chosen time, the message will re-appear unread in the Inbox. Alternatively, click on one of the ClearContext Deferred dated folders to view upcoming messages. You can defer a message as many times as you want.
Options
Click on the Show Options button to view or change the following options:
Change Received Time to Returned Time - will change the time on the returned message so that it appears at the top of your Inbox
Mark Category - will add an Outlook category to the deferred message so that you know that it has been deferred
One-Click Defer - sets the button to immediately defer the selected message to the pre-set defer time interval. Other defer options can be accessed by clicking on the down arrow the Defer button will show in this mode.
* this option only available in Outlook 2010 and newer
Defer Tips
The Defer reminder time defaults to the task reminder time you have set in native Outlook (usually 8 AM). To change, go to Tools > Options > Task Options and change the reminder time in the Tasks subsection.