QuickTasks: Quickly enter and manage new tasks
QuickTasks allow the easy entry of tasks in batches or individually throughout the day as you are working in Outlook or other applications. Quicktasks is launched from the button in the toolbar or the Dashboard. Once open, the QuickTasks window stays above other windows so that it is easily accessible.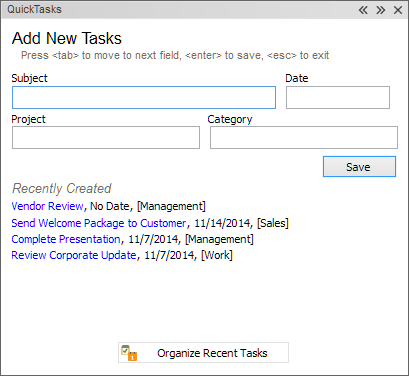 Recently entered tasks are listed in the lower portion of the window, with links to open those tasks. This allows for easy access to those tasks if additional information needs to be added to the tasks.
By default, the Date entered is the Due Date. However, if the Dashboard is configured to manage by Start Date, the Date entered will be assigned to the Start Date.
Use the double left or right arrows in the top right of the window to adjust the width of the QuickTasks screeen to best suit your working preferences.
*
QuickTasks is optimized to quickly capture basic task information
The only required field is the Subject field. The Date, Project and Category fields are optional and feature a quick selection interface to quickly find and select the information
*
Review Recently Created Tasks
Recently created tasks are shown in the lower portion of the QuickTasks window for easy reference. Clicking on the links opens the task details window to edit or view the task.
*
Organize Recently Created Tasks
The Organize Recent Tasks button launches the Organizer in Recent Tasks mode. In this mode, recent tasks can be reviewed and organized with Due Dates, Projects and Categories. The Recent mode groups tasks in groups of tasks that do not have assigned Dates, Project or Categories to facilitate management of the recent tasks.