Toolbar Management: Configure ClearContext to Work the Way You Do
There are a number of options to customize the toolbar to best fit the way you work: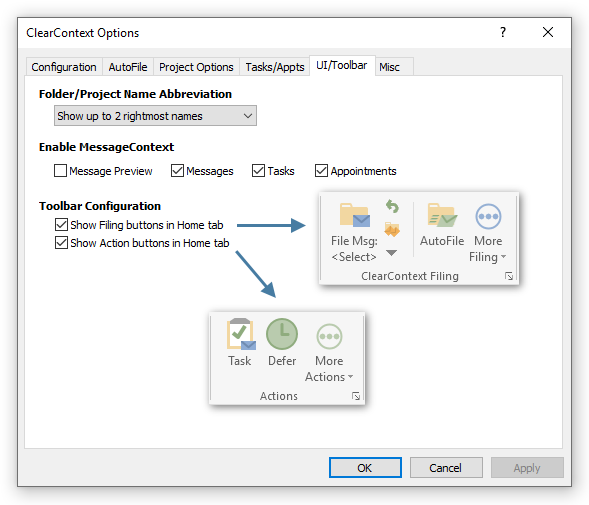 One Click Filing: Choose whether ClearContext displays suggests Filing folders for messages whose subjects has not previously been filed to a specific location before. These suggestions are based on recent filing history and the sender of the message.
Folder/Project Name Abbreviation: Choose how ClearContext abbreviates the display for Project/Folder names in the toolbar. For example, with the default option of showing the 2 right most names, the folder Client/Contoso/Billing would be shown as ../Contoso/Billing. When the mouse pointer is held over the filing button, a mouse over window will display the full unabbreviated name.
Enable MessageContext: Choose whether the Outlook window integrated MessageContext is enabled for the listed types of windows.
Toolbar Configuration: This section appears for Outlook 2007 only. For customization of the toolbar in Outlook 2007, or customization of the Ribbon in Outlook 2010 and newer, please see below.

Toolbar Customization
Outlook 2010 and newer:

The ClearContext tab of the Outlook window lists all available ClearContext functions. A subset of frequently used ClearContext features are also listed in the default Home tab under the ClearContext Filing and Actions sections. The home tab buttons can be customized to add or remove most available functions:





Opens the Filing customization window to select which Filing buttons are shown
Opens the Actions customization window to select which Actions buttons are shown



Outlook 2007:

ClearContext adds a single toolbar to the Inbox with the applications most-used functions. Add or remove buttons from this toolbar via ClearContext > Options > UI/Toolbar.To add buttons to the toolbar, highlight the button name in the Available column and click Add. To remove, click items in the Active column and click Remove. Use the arrows below the Active field to change the order of the toolbar buttons. Reset All will put the buttons back in their factory default positions. You will need to restart Outlook for the changes to take effect.