Email Scorecard: Measure Your Email Effectiveness
The Email Activity Index provides an overall assessment and statistics of how effectively you're managing your email and how heavy a workload you're facing.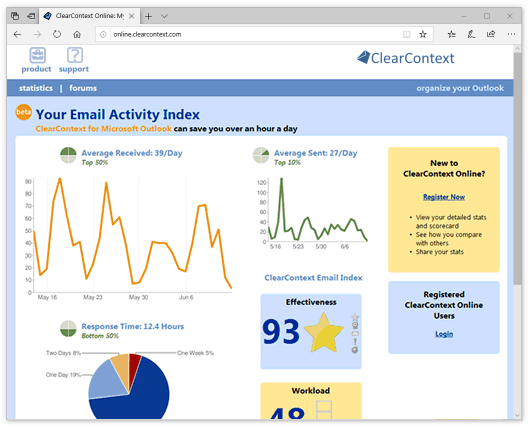 To view your Email Activity Index, select the ClearContext tab and press the Email Stats button. A browser window will open, displaying your some basic stats about your email usage along with the ClearContext Email Index.
ClearContext Email Index Rating: Effectiveness
This score is an overall measure of how effectively you are managing your email communications. The higher your score, the better you are doing with email!

Excellent (80 - 100): great job at staying on top of email and getting a lot done!


Very Good (60 - 79): you are doing a good job at keeping up with email!


OK (40 - 59): you are managing to stay in control of your email.


Warning (20 - 39): you are falling behind in your email communications.


Danger (0 - 19): Your email is getting totally out of control.
Rating Areas
Your email effectiveness score is made up of three components:
Response Time: This factor measures how promptly you are responding to emails. Getting back to emails that require responses within 24 hours will result in a good response time score.
Inbox Control: This factor measures how effectively you are processing the messages in your inbox. The more messages you have in your inbox and the longer it takes you to read, file, and/or delete messages, the lower your score will be.
Communication: This factor measures how well you are doing at sending out messages and processing messages that require response/action.
Your workload score measures how heavy your email communication volumes are. The more emails you send and receive, the higher your workload score will be – and the harder it is for you to keep on top of your email!